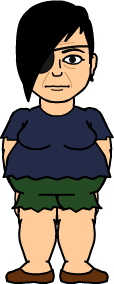 Beefette Stew was born December 18th 1938 ( Age 74) was born in Port Utah, Wisconsin. At the age of 18 she moved to Virginia City, Washington where she met Beef Patty (Desceased), within a month of meeting they were married and had
Beef Stew
one year later. On July 4th 1985 while going out for an Idependence Day burger at Mcdonald with husband Beef Patty, he collapsed dead. Affecting her deeply she left Beef Stew on his own, and moved in to an abandoned log cabin in the woods outside the city.
Appearences
Edit
Great News Ma Part 1 - First Appearence of Beefette
In issue 15 of the popular series The Lard Family, Beefette is the first person in the family to learn that her 56 year old son is finally getting married to Roxanne, a fellow Mcdonalds customer.